"Go ask Erica for forgiveness, else, karma is here for you" – Laycon Receive Advice From Concerned Fan
Sponsored Links
Popular singer, Laycon gets tipped by a concerned fan who asked him to go back to Erica and ask for forgiveness as karma is starting to deal with him.
Laycon the ex-BBNaija housemate winner took to his Twitter to lament over the negative talks he received from Nigerians following the return of his trip from Liberia.
[wp_ad_camp_2]
In a tweet, he wrote:
You know I left Liberia this morning thinking of Nigeria and how much I miss everything here. I landed in Abuja after multiple hours of connecting flights and turbulence, came online to see my people talking down on my name.
In reaction, a concerned fan claimed that Laycon was too ambitious to win the show so he did everything necessary to take down Erica during the reality show, and for that, he is now receiving back the same energy from Karma.
In his words;
Laycon, I don't applaud the critics but when u tried tarnishing Erica's reputati¤n in BBN cos u were overly ambitious to win the show which made people talk d¤wn on her name, u f¤rgot karma exists; Go ask her & the people u have wronged for forgiveness. All the best in ur career.
Checkout his post below: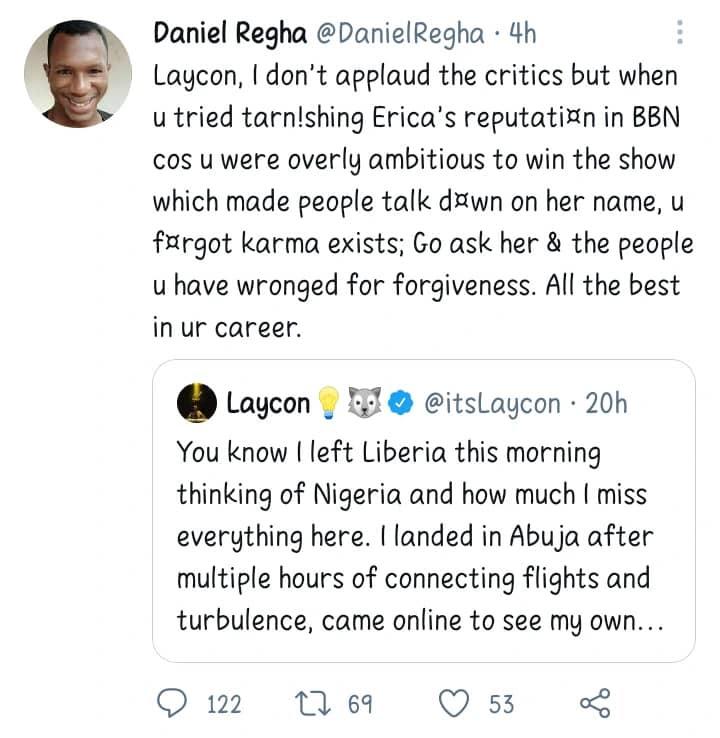 [wp_ad_camp_2]