Billboard Awards 2021: The Weeknd, Secures A Total Of 10 Trophies
Sponsored Links
Canadian singer, songwriter, and record producer, The Weeknd has proven himself as the best in the business, securing a total of 10 trophies at the 2021 Billboard Music Awards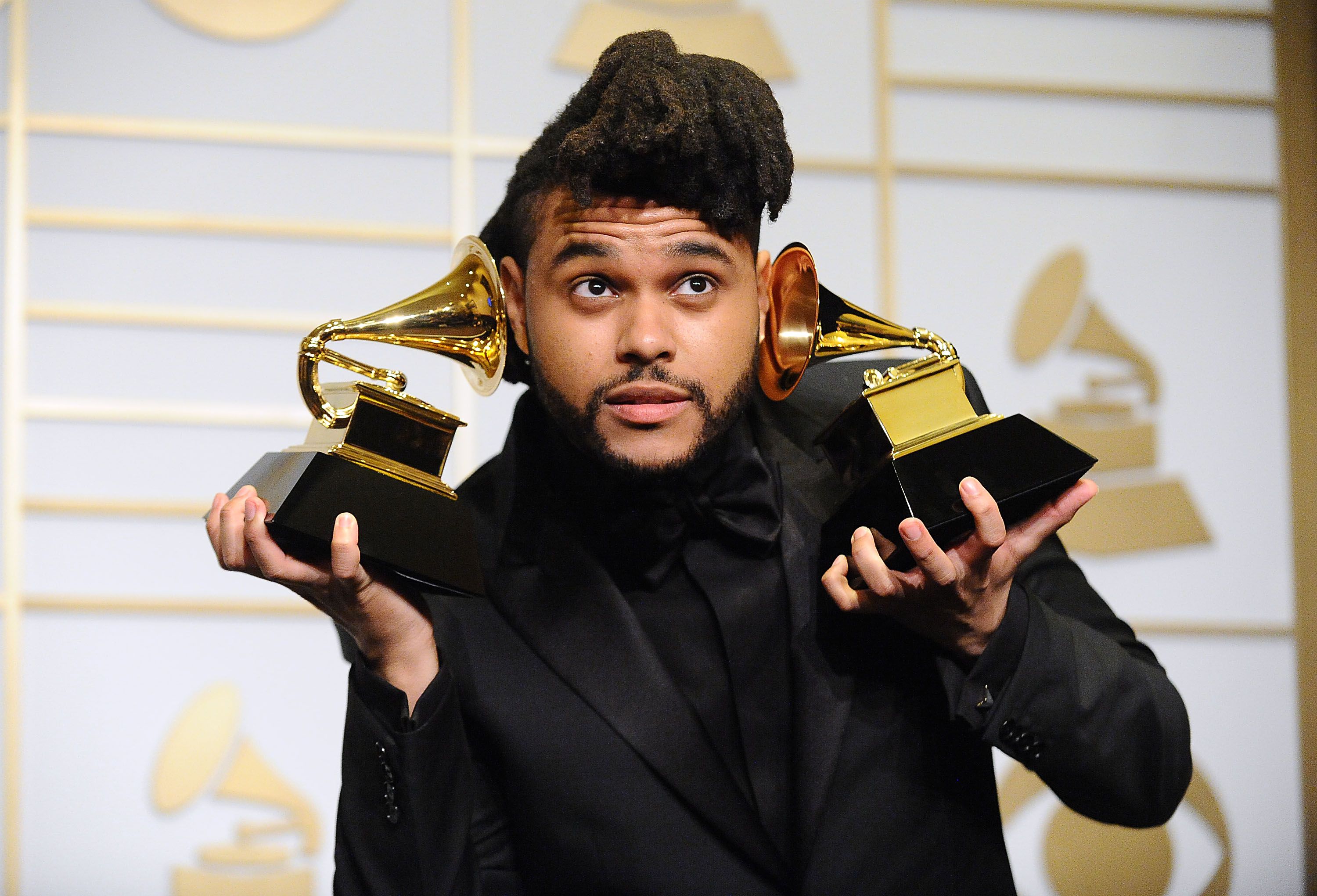 The Weeknd began his recording career in 2010, anonymously uploading several songs to YouTube. A year later, the Weeknd released the mixtapes House of Balloons, Thursday, and Echoes of Silence, and quickly earned a following and critical recognition from several mainstream publications due to his dark style of Contemporary R&B and the mystique surrounding his identity.
The Weeknd is one of the richest singer in the world with an estimated Net worth of $100 million
He has won three Grammy Awards, five American Music Awards, nineteen Billboard Music Awards, two MTV Video Music Awards, and nine Juno Awards, and has been nominated for an Academy Award.
The Weeknd as proven himself as the best in the business, has he empties the Billboard Music Awards 2021 winning a total of 10 awards
 The awards He won Include:
Singer won Top Artist, Top Hot 100 Artist, Top Hot 100 Song Presented by Rockstar, Top Male Artist, Top Radio Songs Artist, Top R&B Artist, Top R&B Male Artist, Top R&B Album, Top Radio Song and Top R&B Song. 
Drake was also named the Artist of the Decade award by Billboard to commemorate his achievements. 
(Click Link below to see post)
Singer, Drake Wins 'Artist Of The Decade Award' At Billboard Music Awards 2021(VIDEO)
The evening featured a star-studded lineup of presenters including Cynthia Erivo, Chelsea Handler, Dixie D'Amelio, Gabrielle Union, Lena Waithe, Leslie Odom Jr. and more.
See full list of winners below:
[wp_ad_camp_2]
ARTIST AWARDS 
Top Artist: The Weeknd 
Top New Artist: Pop Smoke 
Top Male Artist: The Weeknd 
Top Female Artist: Taylor Swift 
Top Duo/Group: BTS 
Top Billboard 200 Artist: Taylor Swift 
Top Hot 100 Artist: The Weeknd 
Top Streaming Songs Artist: Drake 
Top Song Sales Artist: BTS 
Top Radio Songs Artist: The Weeknd 
Top Social Artist (Fan Voted): BTS 
Top R&B Artist: The Weeknd 
Top R&B Male Artist: The Weeknd 
Top R&B Female Artist: Doja Cat 
Top Rap Artist: Pop Smoke 
Top Rap Male Artist: Pop Smoke 
Top Rap Female Artist: Megan Thee Stallion 
Top Country Artist: Morgan Wallen 
Top Country Male Artist: Morgan Wallen 
Top Country Female Artist: Gabby Barrett 
Top Country Duo/Group: Florida Georgia Line 
Top Rock Artist: Machine Gun Kelly 
Top Latin Artist: Bad Bunny 
Top Latin Male Artist [NEW CATEGORY]: Bad Bunny 
Top Latin Female Artist [NEW CATEGORY]: Karol G 
Top Latin Duo/Group [NEW CATEGORY]: Eslabón Armado 
Top Dance/Electronic Artist: Lady Gaga 
Top Christian Artist: Elevation Worship 
Top Gospel Artist: Kanye West
ALBUM AWARDS 
Top Billboard 200 Album: Pop Smoke "Shoot for the Stars, Aim for the Moon" 
Top R&B Album: The Weeknd "After Hours" 
Top Rap Album: Pop Smoke "Shoot for the Stars, Aim for the Moon" 
Top Country Album: Morgan Wallen "Dangerous: The Double Album" 
Top Rock Album: Machine Gun Kelly "Tickets to My Downfall" 
Top Latin Album: Bad Bunny "YHLQMDLG" 
Top Dance/Electronic Album: Lady Gaga "Chromatica" 
Top Christian Album: Carrie Underwood "My Gift" 
Top Gospel Album: Maverick City Music "Maverick City Vol. 3 Part 1" 
SONG AWARDS 
Top Hot 100 Song Presented by Rockstar: The Weeknd "Blinding Lights" 
Top Streaming Song: DaBaby ft. Roddy Ricch "ROCKSTAR" 
Top Selling Song: BTS "Dynamite" 
Top Radio Song: The Weeknd "Blinding Lights" 
Top Collaboration (Fan Voted): Gabby Barrett ft. Charlie Puth "I Hope" 
Top R&B Song: The Weeknd "Blinding Lights" 
Top Rap Song: DaBaby ft. Roddy Ricch "ROCKSTAR" 
Top Country Song: Gabby Barrett "I Hope" 
Top Rock Song: AJR "Bang!" 
Top Latin Song: Bad Bunny & Jhay Cortez "Dákiti" 
Top Dance/Electronic Song: SAINt JHN "Roses (Imanbek Remix)" 
Top Christian Song: Elevation Worship ft. Brandon Lake "Graves Into Gardens" 
Top Gospel Song: Kanye West ft. Travis Scott "Wash Us In The Blood"